Home

/

NT-20A Time and Date Stamp Machine
The NT-20A Time & Date Stamp Machine from Targetmax is designed for use by all types of industries.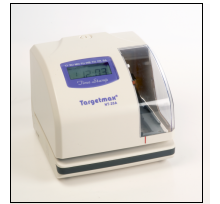 The NT-20A from Targetmax is an Electronic Time Stamp and Numbering Machine.
This time stamp offers more convenient and versatile features than ever with various print formats and numbering, and a large window for positioning the document or material to be printed. The NT-20A can be applied to every business situation you want to record time, date and/or numbering or replace old and heavy manually operated time / date stamps.
Typical applications are documentation of Start or End times in workshops, car repair and in simple Job costing, order or project control but also for arrival / departure applications for persons or vehicles (simple parking meter).
Main Features
Keeps time during power failure
Perpetual calendar
Automatic adjusts for Daylight Saving Time
Left or right hand margin printing
Printing selections include Manual, Automatic, Semi-Automatic and combination
Large window for accurate document alignment
1 to 8 digits numbering with up to 9 repetitions
Selectable printing order up to 30 sets to choose from
Selectable print formats:

2 or 4 digits year imprint
AM/PM or 24 hours format
Regular minute, 1/10, 1/20(5/100), 1/60 or 1/100 of an hour
13 preset comments such as PAID, FILED, SENT, RCVD or CMFD
Customizable printing up to three separate lines
4 digit numeric password for program protection
Designed for wall or table mounting
Optional external bell output relay
12 Months Warranty Parts and Labour

NT-20A Time & Date Stamp Machine Leaflet

NT-20A Time and Date Stamp Machine Manual