Home

/

S-990 Clocking In Machine
The S-990 clocking in machine is designed for use by all types of industries.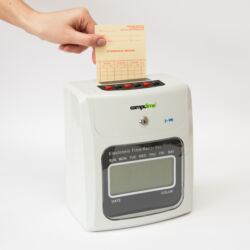 The S-990 electronic clocking in machine is designed for businesses that need a fast and reliable way to track employee attendance.
The S-990 is packed full of automated features:
Employees simply drop their clock card in the top, and the clock machine automatically feeds, aligns, print, and ejects the time card in just seconds.
The clocking in machine is dispatched fully configured and ready to use straight from the box. All you have to do is plug in and start clocking.
Terminal Features: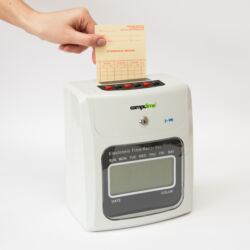 Suitable for commercial and industrial use
Large backlit digital display for easy viewing and setting
Highlights lateness in

RED

Up to 6 clocking per day per employee
Fully automatic in and out clocking
Automatic hour adjustment for summer and winter time change
Built in battery backup for memory retention
Auto reset of time and date for power failure
Output to bells and sirens

12 Months Warranty Parts and Labour

S-990 Clocking Machine Leaflet
Caroline from Slatepack Ltd
I was looking for a manual clocking machine to speed up our administration of time and attendance and found Computime website really easy to navigate and visually good. The online buying process is simple to follow and the product was delivered very fast.
The clocking machine is brilliant with features normally associated with more expensive types and it came already setup, ready to use straight out of the box.
Supreb!! I would absolutely recommend Computime to anyone.
Shirley from Dorset Glass
I required some clock cards and found Computime but I did not buy online, I used the website to visually see which card I required and called them. Using the phone, the buying process was very speedy and the clock cards were delivered very fast. The product matched what I had seen on the website and the prices were definitely competitive. I would certainly recommend Computime for the good service they provide.
Angela from Donald Campbell Motors
I found the website of Computime straight forward to use and I did not come across any problems while buying online. The unit was delivered to us quickly and ready to use even the time and date was set correctly. The machine was already programmed for the card supplied and the product matched the description and the picture.
I would recommend Computime for the quality of their product and value for money.
Alex from St James Pastry
We are delighted with the product and speed of delivery. Business as it should be. The Clock machine was virtually "plug and play". All we had to do was to screw it on the wall.
Thank you.