Home

/

SP25 Plus Card Printer Bundle
The SP25 Plus card printer bundle is ideal for low volume applications. The pack contains everything you need to start producing high quality ID cards easily and conveniently in house. Free Dataimage Lite ID software included.
This affordable system offers everything you need to create and print photo identification cards or badges, all in one box.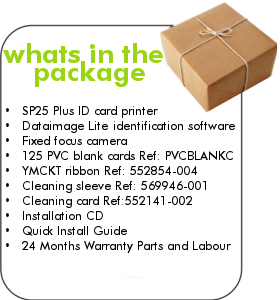 Easy to set up taking as little as 20 minutes from start to finish. A single installation disk loads ID Works Intro software, printer driver and camera driver.
The reliability and flexibility of the Datacard SP25 Plus photo ID card printer together with the easy-to use Datacard ID Works Intro identification software makes this package the ideal solution for the production of membership cards, subscription and loyalty cards, badges for visitors and employees and much more.

All you need to get you started:
SP25 Plus ID card printer
Dataimage Lite ID software
Fixed focus camera
125 PVC blank cards Ref: PVCBLANKC
YMCKT ribbon Ref: 552854-004
Cleaning sleeve Ref: 569946-001
Cleaning card Ref:552141-002
Installation CD
Quick Install Guide
24 Months Warranty Parts and Labour
The Datacard SP25 Plus card printer is a smart choice for any company or organizations wishing to produce high quality photo ID cards or badges comfortably and within budget.
The SP25 Plus from Datacard is a simple and flexible ID card printer which offers full- colour and monochrome printing capabilities as well as innovative rewritable card technology reducing the time, cost and waste of reissuance. The SP25 plus is supplied with Free Dataimage Lite ID software and presents itself as the ideal solution for low volume applications.


Features
Outstanding colour printing
The SP25 Plus card printer makes it easy to produce attractive cards with high quality, full- colour or single- colour photos, graphics and text. Advanced imaging technology helps ensure bold, vivid colour, precise barcode printing and sharp fine-line details.
Remarkable rewritable technology
The SP25 Plus card printer delivers single-colour photos and text on rewritable cards with excellent image quality. Rewritable cards feature a clear, heat-sensitive layer that can be erased and rewritten over 500 times. They offer an affordable way to update cards with frequently changing data or create reusable cards, such as temporary visitor IDs.
Simple operation and maintenance
To help ensure exceptional ease of use and flexibility, the SP25 Plus features "quick change", error-free ribbon loading and one-at-a-time card or badge printing. The card printer ribbon cartridges are reusable to minimize waste.
Options
ISO magnetic stripe encoding

SP25 Plus datasheet